WWI Memorials Project

During 2014 Claire Hensman, Lord Lieutenant of Cumbria sponsored the Memorial project, in association with CCHT and CWAAS, in commemoration of the Centenary of the start of the First World War in 1914.The project was designed to encourage children in primary schools throughout the county to look at their local First World War memorials, as a spring-board to researching the local impact of the war.  All primary schools in Cumbria were sent a Resource Pack, available here   More than sixty schools participated in the project and between 18 July and 2 Septmeber, the 'Memorial' exhibition ran at Rheged, Penrith, show-casing the work of children from sixteen of the schools.  The children's work was exhibited on specially sculpted wooden memorials made by local artist Oli Robson, and was laid out in the form of a trail stretching from the ground floor to the second floor gallery.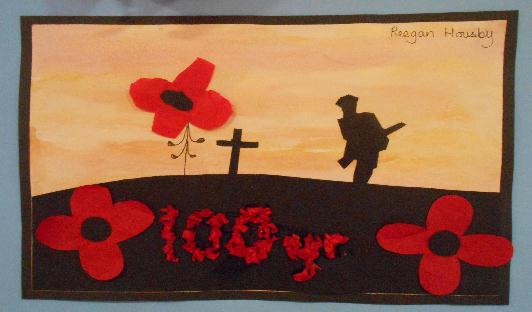 For example, Silloth Primary School did a two-week project in years 5 and 6.  Some of their work is on display in our Gallery. The chldren read 'War Game' by Michael Forman, and imagined how different family members might think on finding a loved one had joined up.  They looked at War Poetry , and even wrote their own versions of Owen's 'The Letter'.  They made trenches and produced diaries.  Some of the children researched their own family histories. All in all, the project was highly informative and successful.  Special thanks to Andrew Brooks, Asst Headteacher of Silloth for his report.
More work from other schools can be seen in the Gallery
Claire Hensman, Lord Lieutenant, with Bill Shannon (CWAAS) and Bryan Gray MBE (Chair, CCHT) at the launch of the Memorial exhibition at Rheged, Penrith.
On-line resources for the study of the First World War are growing rapidly at present.  The new National Archives WWI Portal is available here.  Click here for a selection of drawings made for Country Life in 1916, showing life in the trenches - and here for a list of towns and villages in Cumbria which have a link to WWI holders of the Victoria Cross.
This site has fifty images chosen by the staff at the Liddell Hart Centre for Military Archives at King's College, London, which you night find useful http://kingsarchives.tumblr.com/
The number of websites with useful information on WWI is growing all the time.  We will add relevant sites here as we come across them, especially if they refer to the county, like this site, which commemorates the former pupils of Carlisle Grammar School for Boys who served and fell in that war.
The North West Film Archive has released a DVD showing life on the Home Front in the region during WWI.  Details available here